Are you starting a campaign to prevent inappropriate development of, or in, your local park or green space? This guide provides you with all the tools you need to help mount a strong case to oppose the plans and save your space.
Many UK parks and green spaces are located in desirable areas and selling them off, or parts of them, continues to be an option, albeit a highly controversial one, for landowners to generate funds.
Key ingredients that help a campaign to be successful are commitment and passion for the cause. This usually comes from local people who are determined to stand up and ensure a popular green space isn't spoiled or doesn't disappear.
We would strongly advise setting up a Friends group for any park or green space you cherish and also join a Friends Forum if there is one in the area. If you can do this before any unwanted development plans appear on the horizon even better! It is much harder for landowners or developers to change the use of a site if you can show it is currently well-loved and looked after by local users and volunteers. Demonstrate it is a neighbourhood asset with many different communities using the space.
Plan of Action:
STEP ONE: Choose the objectives
It is important to be clear about your aims from the outset. Many campaigns to save a park or green space need to prioritise getting a planning application refused. But does your group have any further objectives? Discuss them as a group and write them down, this will ensure your message is clear and the campaign will have more credibility because you have thought in depth about the future of the site. You are not simply objecting, you also have positive goals and solutions for the future, you also have solutions for the future, this can help prevent accusations of 'Nimbyism'. Your aims beyond the campaign may include protecting the space by applying for Village Green status, improving the site, bringing in investment or perhaps the campaign team feel ready to help run the site for the community.
The Open Spaces Society have some excellent factsheets:
STEP TWO: Build your case
To maximise your chance of success, you need to develop convincing arguments that illustrate why your park/green space is unsuitable for development.
Take time to understand the Local Planning Process and how Councils work, who on the Council has the most influence with regards to planning and who makes the final decision. This is an old guide but it is very useful in shedding light on the whole process of planning and development, it is aimed at local councillors and discusses how local people can get involved.
Demonstrate the strength of public feeling – show how local people use the site, if it is designated playing fields then involve the local sports teams, will they play on pitches a distance away, are they an upgrade or downgrade in quality? Use personal stories to show what could be lost – this is what people remember, it can make the difference between gaining support or not. Are there other key groups nearby who use the green space eg local schools, scouts, sheltered communities? Get them on board!
Familiarise yourself with the site you are campaigning to protect. Sign up to the Ordnance Survey Data Hub. Find how the site is used now and in the past. Does it function as a flood plain? You can check for free on the Environment Agency website. Is it a Site of Special Scientific Interest or Ancient Woodland? (Take a look at Natural England's open data GeoPortal)
Check the Land Registry to see if there are any covenants, such as Fields In Trust in perpetuity legal protection
Research how your Local Council categorises the site, look at their Local Plan (this should be on their website or speak to your Ward Councillor).
Check for green belt designation, do an online search for "your area + green belt". Further useful links can be found on the Who Owns England website
Check previous planning committee decisions, read the archive on your Council's website, look for any patterns and whether your site has been refused planning permission in the past, what reasons were given? Have similar cases cropped up in the past in the Local Authority area, what was the outcome, did they run a campaign? It could be worth contacting someone involved in the campaign
Identify problems in the developer's aims and arguments. Research why they say the new development is needed and check their facts and assumptions. Use FOI (Freedom Of Information) if it is difficult getting the answers you require
Find the 'Achilles' heel' of any of the vested interested parties – is there anything they would rather you didn't highlight (does it contradict their own environmental policies, are there inaccuracies in the application or supporting documents?) see if there are any open-source datasets on the issues, the Office of National Statistics datasets could be useful. For example, you could search on postcode to find the nearest green space to your area and discover how many people it supports, is this below national targets? Show your area needs green spaces! Check on the Friends of the Earth Access to green space tool.
Get expert advice if needed. Check out the Royal Town Planning Institute for free Planning Aid and our Partner Page for further ideas.
What needs is your green space currently serving? Take a look at the Tisdall Associates PARK HEALTH AUDIT AND TOOLKIT which can yield useful facts about how your green space is beneficial to the community (See further details in the FURTHER HELP section at the end of this article
Research any natural, archeological or historic findings significant to your site. Contacting local history societies and wildlife groups can prove fruitful and universities may also have research and records on your site and check out the Fields in Trust history programme)
Look at the Local Plan for your area to see whether a development fits with the Council vision for the area. Does the Council or landowner have policies on climate mitigation targets, air quality, biodiversity, green infrastructure plans, playing field strategy, green belt, playing spaces for children? Look for anything which may demonstrate losing your site will have a detrimental effect on the local area.
Give evidence of a business case for keeping your green space. For example, are there any plans to use your site for future NHS "green social prescribing" or for a forest school? Does your area struggle for rooms suitable for community meetings or fitness classes? Proving demand creates the possibility that the site could be carefully valued for its money-generating opportunities in future; a resource for the benefit of all. Demonstrate there is a need. Sell the dream! (Community hub, cafe, hot-desking in areas with high numbers of freelancers etc). Show examples of other parks and green spaces and how they have thrived
STEP THREE: Design your strategy
Choose the communication channels you will use to reach your targets (see Step Four for more specifics on these). The key thing is to inform your community, not everyone will want to actively campaign but they do want to be kept aware of what is happening. This groundswell opinion can be vital to sway those who wield the power.
Designate members of your team to oversee these channels and any key targets you wish to reach.
Be friendly and 'the voice of reason' Don't over-exaggerate, use aggressive tactics or accusatory tones; you are dealing with ordinary people who will appreciate someone who communicates in a polite, reasonable and constructive manner – yet a determined one! You are more likely to get your message heard and engage someone if you act this way.
Develop an emotive strap-line or story which cuts to the main issue, this could be: "Don't take away our Green Lungs" "Local people need local parks" "Green not Grey". Having some strong images which sum up your argument will help with this too – it could be local people in the park/green space holding placards showing why they care or historical images of significance. Use whatever feels right for your campaign.
Be a reliable and important source of information. Explain clearly why you are campaigning – share the benefits to the users and community. Show opponents case studies of where sites have been lost to the detriment of local people, illustrate the negative affect losses can have by sharing personal stories. Perhaps older users have childhood memories of growing up and playing on the site, ensure the issue is seen in 'human' terms'. Show how it could negatively impact your local community and give examples of how. Many people have deep connections with their local parks and green spaces, tap into this love of the space and share any discoveries. Find out whether there are Rights of Way across the land by contacting The Ramblers or Open Spaces Society or local Footpath Societies, check facts and reveal the history of a site.
STEP FOUR: Communicate the message
Be innovative – create memorable ways to promote your message. An edgy approach can often help your campaign reach a wider audience and is less likely to be forgotten, but be careful not to alienate your supporters. Bold fresh ways of communicating often use creativity and humour; when implemented successfully, they can prove inspirational. Strong ideas will allow your supporters to show their support and feel part of a powerful community. It can create newsworthy stories and produce images people want to share and which instantly communicate your key messages
Quality not Quantity Many stakeholders and officials such as councillors are very busy, so give them clear, concise information – avoid swamping them with pages and pages
Speak the language You will probably have a number of target audiences and each may require a different approach. For local people you could "tell the story of what will be lost" – supporters need to engage emotionally with your campaign. Officials or stakeholders may respond more to economic arguments. Make the case using terms they understand (economy, mental health, community cohesion, better value, flood protection, climate mitigation, public health)
Identify important stakeholders and influencers. Create a list of all people, organisations and informal groups that may have an interest in your campaign. It will enable you to mobilise support. Think how any proposed development of your site may impact on local people and user groups. Get in touch with them and let them know what is happening and find out if they support your campaign. This is a great 'Step by Step guide on how to engage'
Establish relationships – Use a variety of methods, mix things up depending on who you are dealing with, face to face can sometimes be more productive than lots of emails. For planning permission there are Statutory Consultees, they can provide the key to a planning application being rejected so they are well worth befriending. The Gardens Trust are a Statutory Consultee if your park is on the Historic England 'Parks and Gardens of Special Historic Interest' list. Try to gain the support of your local MP. Make contact with other groups who have fought campaigns, especially if they are within your area and were successful. Is there a Friends Forum for Parks and Greenspaces in your area? They will be an excellent source of support and could have useful connections and networks you can tap into. Are there any other organisations who may feel the same as you and wish to protect your site? Once relationships are established, they should be kept active; keep them updated in a clear and timely fashion regarding your plans and activities
Develop a record of engagement – keep track of all you contact, this ensures optimum use of time, shows you are professional and prevents duplication
Maintain and update your contact list and ensure you keep up to date with developments and changes in the organisations and individuals you are engaged with. It will make the planning process for any future collaborative work more efficient, and help ensure that relevant groups and individuals are considered
Decide what engagement tools you will use. Below we list the common communication methods in order of ease (ie time and resources required). Often a blended approach is required, to ensure you successfully reach as many people as possible
Signs/Notices/Leaflets on site A quick effective way to update and inform. Signs and notices can be a cheap and easy way of communicating with people within and nearby your site. To be effective, ensure that signage is up to date, weather-proofed, fixed up well and that notices are clearly posted at locations where they will be seen by site visitors. Consider sharing these leaflets/signs with other stakeholders and posting to nearby residents or groups. Remove out of date or damaged signage, this shows your campaign is well run and monitored.
Letters. Useful to deliver to neighbouring properties it could contain an invitation to attend a meeting or signpost them to ways they can share their views perhaps via a website, petition or survey.
Hold a Public meeting
This provides an opportunity to discuss the campaign and any associated issues with site users and interested community stakeholders. It presents a good chance to see who is committed and who may wish to get actively involved in supporting your campaign. It is vital to manage peoples' expectations from the outset. If holding a meeting, what do you wish to achieve?
If you organise a public meeting, here are a few tips to help:
Set a clear agenda for the meeting
Consider asking an impartial member of the community to chair the meeting (Local Councillor?)
Advertise the event appropriately to ensure as many members of the community are aware of the meeting as possible
Explain the reason for holding the meeting, through advertising and at the start of the meeting in order to manage people's expectations
To ascertain the mood of the room you could have a large whiteboard and ask for people to "vote" with sticky dots or notes on certain topics. (Dot voting). Or hand out "comment cards" at the start and get these handed in on the way out. A good one for social media updates!
Share any positive letters of support for your campaign which you may have had from statutory bodies, stakeholders and interest groups.
Summarise what will happen after the meeting, in terms of what next from the campaign and signpost those attending to call to actions. It is important to ask everyone to sign an attendance sheet so they can receive further updates, preferably with an added 'tickbox' for people to indicate if they'd like to get actively involved in the campaign
Take photos of the meeting if it is well attended, you can publicise this support to galvanise further interest.
Further really useful help: Public Meeting Toolkit
Social Media and website. Having a strong presence on social media is a good way to build long-term relationships with the local community and keep people interested and involved in your campaign. Social media offers a wide range of opportunities to reach out to stakeholders and a wider audience and setting up an account is free. A website and blog can be a quick way to update your campaign supporters and mobilise them. Websites can be free to create using something like WordPress. Choose a good name for the site, ideally the same name as your campaign. The key to success is updating with regular content, so pick your channels wisely – don't try to set up all of them and then find you have no time to manage things. It is better to pick one and do that well!
Take a look at this detailed 'Guide to using Social Media' (it is produced by the London Cycle Campaign team – aimed at cycle campaigners but is still totally relevant to all campaigners).
Press release. If you anticipate that your planned activities may attract a high level of public interest, you may choose to contact the local press to provide them with a summary of your event/campaign and your aims. This provides the perfect opportunity to learn how to write a good press release!
QUICK GUIDE TO WRITING A PRESS RELEASE
Write "Press Release" large across the top
Put the Date (or release date if the news is embargoed until a set date)
Provide a headline
Start with a punchy and strong paragraph that summarises the news release
Provide a bullet list emphasising key points
Follow with more detail (including a direct link to specific downloads if you have any)
Include "ENDS" at the end of the piece
Underneath add "Notes to Editors" with contact names and telephone numbers/email that journalists can use to contact you
Attach a couple of strong images and any plans or key documents
Always include a brief paragraph that introduces your group and campaign
Include a link to your website, or any other social media channels
Add a quote from a campaign rep, and possibly from other site users too
More detailed help on how to write a press release can be found here.
STEP FIVE: Grow your support
Work as hard as you can to engage the community with your campaign.
Identify those who can help. Find committed people willing to volunteer their time and skills to help the campaign. Identify key contacts and stakeholders. People who it is vital you build up a relationship with, either for influencing or getting information. Be specific – what would you like them to do, what facts do you need?
Continue to build links and contacts via Social Media – make sure your accounts are monitored regularly, otherwise you risk missing offers of help or even interview opportunities. Do not get sidetracked by "trolls" with "strawman" arguments – these are designed to sap your strength and confuse!
Engage with media contacts. Develop good networks with local press, online news sources, radio and television. Invite local journalists to your site so you can show them the location and share your reasonings for campaigning. By contacting the local media you have opened up a communication channel that will hopefully ensure as the campaign progresses they are aware of the issues and may choose to follow things as developments happen. If the story is of national importance (perhaps the space is popular beyond the local area or involves a celebrity or covers a topical issue) then contact national media as they may wish to cover the story. If you are lucky enough to have a local celebrity who cares about your campaign, do not hesitate to use their reputation and reach to improve your chances of success
Understand behavioural change. If you care about an issue or cause, it's natural to want others to care as much as you do. Studies show that having a powerful argument can change someone's mind, but it does not always bring about a change in how they act. A successful awareness campaign will increase knowledge of an issue but your campaign also needs to alter behaviour – you want people to join protests, sign petitions, write to their councillors, put up a support poster in their window. It helps to always share a clear "Call to Action" in your campaign communications, so supporters know exactly how they can help. Define clear "actionable and achievable calls to action" that will lead a specific group of people to do something they haven't done before. Here's a really good article on how to convert support into behavioural change.
Increase your knowledge on "The Theory of Change" a useful place to start is here. The short version:
Provide a credible solution that is achievable, has support and will survive further future scrutiny; because you will need to overcome inertia to achieve campaign success!
Crowdfunding. This can be really useful as it shows you have strong support and allows you to run a strong professional campaign. Having a substantial kitty means your campaign can fund a Judicial Review if needed.
---
CROWDFUNDING TIPS
STATE EXACTLY WHAT YOU NEED THE MONEY FOR when setting up a fund. You may want to improve or purchase a building or even the whole site for the community, promote your campaign using site banners or leaflets, engage a solicitor or other specialist expertise, pay for an advert in the local paper, hire a meeting space or build your own website.

DECIDE ON A REALISTIC FUND TARGET. Promote the crowdfunded appeal to your supporters (who is your typical supporter, what is the best way to reach them?).

HAVE A MARKETING PLAN in place well before the crowdfunder goes live.

KEEP THE APPEAL IN THE PUBLIC EYE, you can do this by celebrating hitting milestones (eg 50% towards target or share news of a big donation).

SAY THANK YOU PUBLICLY TO THOSE WHO DONATE, (via emails, newsletters and social media and mention in Press Releases) peer pressure is important.

KEEP IN TOUCH with donors once crowdfunding is finished, to show how the money has been spent and how it is helping with the overall campaign. You never know, you may need another crowdfunding appeal further down the line!
STEP SIX: Influence the outcome
Encourage the community to write official objection letters. Follow the planning channels if this is a development needing planning permission. (Good info on the planning process in Fields In Trust "Watch this Space Guide" Pg 36-69 including a template objection letter).
Petitions. Can be useful for showing how much support your campaign has built up. Provide a number of different ways for people to sign up – not everyone is on the internet. An MP, Councillors or Council Officers may be more likely to listen if you speak for significant numbers of people. In your communications state how many supporters you have (signed up members of the campaign or social media followers), mention if you have a petition with significant backing.
Publicity and protest. Photo-shoots, stunts, protests and gatherings can be a great opportunity to get publicity, attract more people and show the strength of feeling on the issue.
Lobby. Lobbying is basically, trying to influence someone on an issue. You need to be careful not to overstep the mark – don't give away freebies or favours! Don't allow your opponents to jump on your methods and accuse you of operating poor judgement.
There are different lobbying methods you can use:
Using social media
Visiting a MP/Councillor surgery or Council meeting
Writing a letter
Sending an email
Making a phone call
Cultivate relationships with elected officials and Council officers whilst remaining politically neutral yourselves. They are usually very busy, so give them clear, concise information – avoid repeat messaging or you risk becoming an irritant. Invite them to attend one of your meetings or events or offer to show them around your site. Even a handful of letters or phone calls to a councillor or officer can make all the difference and may encourage them to support you. Whilst volume can sometimes be helpful, a face-to-face meeting with each of your councillors may be more effective than 100 emails on the same issue.
Councillors should be willing to listen to you and give you their opinion and reasoning. You can keep writing or calling to ask for their specific viewpoint on a question if you don't get timely answers, but as stated previously, behave with respect and understanding at all times. If dialogue breaks down, analyse why things are not working and consider an alternative approach. End any letters or emails with "I look forward to your reply" to encourage further dialogue.
Speak their language, make the case in a way they will understand and show how it affects the area and the neighbourhood (economy, value for money, air quality, public health, increased visitors, opportunities for community classes etc). Don't just complain! Councillors hear this all the time – stand out by offering alternative solutions.
Give councillors or officers credit where it is due, e.g. in letters to the press, on social media or in blogs. Around an election period, remember not to be party political or attempt to influence votes – but it's a great time to raise issues and to demand support!
Be aware that some politicians and councillors can sway with the wind, others like to keep their options open, some will say yes to anything as long as they don't expect to be held to it! Councillors from opposition parties are often keen to question the decisions of others. You might be able to use this to your advantage when campaigning.
Learn how to win an argument!
The Guardian has written a helpful piece on this topic and is well worth a read. We've summarised the main points below:
KEY FACTS: Most people conveniently remember facts that support their beliefs and forget others. People fail to notice the logical fallacies in their own argument if the conclusion supports their viewpoint. If they are shown contrary evidence, they will be critical of the tiniest hole in the counter argument. This phenomenon is known as "motivated reasoning". This false sense of expertise leads to closed-minded positions – an attitude known as "earned dogmatism".
1) Drill Down when arguing and ask for more detail. Find out "How" not "Why". This can highlight a lack of knowledge and lead to a polarised attitude becoming more moderate and less biased. Fill their knowledge gap with a convincing alternative narrative that gives a plausible retort to their key issues.
2) Stick to your point. Often a person's POV (Point Of View) comes alongside many other deep seated beliefs and sometimes even personality traits (freedom to choose, dislike of big brother rules etc). It is impossible to unravel someones whole belief system, better to show how this one viewpoint can be altered, but keeps their overall world view intact.
"The aim is to help them recognise that they can change their mind on certain issues while staying true to other important elements of their personality."
3) Switch the argument entirely if you can appeal to another element of their beliefs and values. "We all have multiple identities".
4) Detach them from their strong emotions. Ask them to think of how this will affect future generations or how other countries may view what is happening.
5) Stay calm, be kind and friendly. The purpose is to change minds, rather than signal your own superiority. "Civility costs nothing and buys everything." People are more willing to own up to the limits of their knowledge and understanding if they are treated with respect and compassion".
6) Appeal to values, not affiliations. Don't fan the flames, avoid digressing onto any other issues you may also disagree on.
Common arguments used to silence green space campaigners: "The austerity argument" – trading off parks v importance of 'essential services' and "The housing argument" providing places for people to live is more important than keeping green spaces for leisure and nature. Also, be ready for those NIMBY accusations!
---
STEP SEVEN: Win!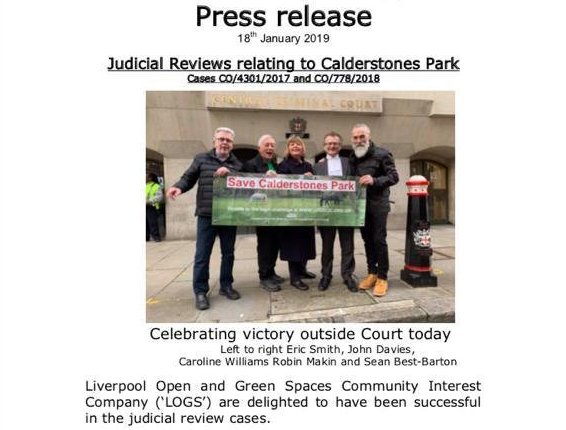 Winning a campaign and saving a much-loved green space requires effort, skill and often some luck. The final result may come down to power and politics and prove impossible to defeat. Timings and the 'bigger picture' nationally can play a part. People will say "it's a done deal" and you are wasting your time, an easy and common tactic to deflate campaigners. But if you don't try you will never know.
Many parks and green spaces have been saved, they illustrate why fighting for them is not only worthwhile, it is essential! It's about standing up for your community's needs and thinking about what future generations deserve; especially with regards to the increasing worries posed by environmental damage and climate change. Can you live with yourself if you sit back and do nothing and watch the neighbourhood park or green space disappear forever?
"Win, lose or draw – you stepped up!"

Chair, Friends of KGV Brown's Field and Carr Lane Woods
Friends of KGV Prescot (Browns Field) and Carr Lane Woods, Prescot, Knowsley successfully fought to save their park as part of a wider campaign to halt Knowsley Borough Council selling off 10 per cent of KMBCs parks and green spaces.
This quote from the Crystal Palace Campaign (plans to build a multiplex cinema on a Grade II* listed site in Crystal Palace Park) sums up exactly why fighting for our green spaces matters:
"You will have fought for something really valuable. You will have stood up for your rights. You will get to know your neighbours better. You will develop all sorts of new skills. And maybe, when you get old, you can rest with your granddaughter under a tree which you helped save."

Crystal Palace Campaign
---
FURTHER HELP
Some brilliantly helpful guides to campaigning we recommend for further reading:
Seeds For Change great guide on campaigning
Fields in Trust "Watch This Space – Organise a Campaign to help save your park (Section Three is most relevant) It could be worth contacting Fields in Trust as they "Provide online advice and information on key issues relating to the protection and management of parks and green spaces to landowners, managers and users." Read the Fields In Trust pdf "Green Spaces For Good"
London Friends of Green Spaces Network: Successful Tactics and Campaigns to Save Greenspace (2015) and "Tactics useful for fighting Land grabs" (2017 discussion)
"Saving Open Space" pdf. Written in 2004 but still hugely relevant for today's campaigners. Written by Philip Kolvin who was the Chairman of the Crystal Palace Campaign from 1998-2004. He is now a trustee of the Campaign to Protect Rural England.
The Gardens Trust "The Planning System in England and the Protection of Historic Parks and Gardens" leaflet can be download here.
Locality – Endangered Spaces toolkit "The UK is losing over 4,000 publicly owned buildings and spaces every year. That's why Co-op and Locality are working together on the Endangered Spaces campaign to help save our much-loved community buildings and spaces from being sold off for private use."
List of some ongoing campaigns to save green space or public space
Campaigning and Influencing guide from NCVO
Consider getting in touch with a Co-Op Member Pioneers. Their job is to bring people together to increase co-operation in local communities.
Open Spaces Society – a brilliant charity which works to help communities protect their green spaces
CPRE "The Countryside Charity" – has some really useful information and research, for example "There's already enough suitable land to meet targets for new homes"
Download the Community Organisers "Principles of Practice" which has been developed to guide all those involved with community organising to understand and share the same behaviours, actions and approaches.
Help with finding and using data to assist your campaign – DataKind run a limited number of free 1hr sessions for charities and non-profits via their 'Office Hours' initiative. Chat to a data scientist to find out if data can help your campaign!
How to conduct a survey – a great guide from Inspiring Impact
Tisdell Associates Greenspace Health Tool. This requires registration but it is currently FREE for Friends Groups to use. Answer a series of questions and get a useful analysis of how your park or green space is helping with Community Initiatives, Accessibility, Mental Wellbeing, Physical Activity and Environment and Biodiversity. Great information to have when explaining how important your site is for the local people.
Parks Community UK (that's us!) Our website aims to provide everything you need to know about how to animate, protect and enhance public green spaces, how to set up strong Friends Groups and empower ourselves and our communities. We are adding new content regularly such as "How To" guides and Case Studies, and if there is anything you would like to see added – then please do get in touch.
Good Luck!