Green Social Prescribing is the formal linking of individuals through a NHS healthcare provider and link worker to nature-based activities to improve health. The aim is not to replace a traditional medical approach, but to work alongside it, to offer a route which can treat the root cause of health problems rather than the symptoms.
For the past few years, the NHS has started to explore a more holistic, person-centred approach to medicine, recognising the value of services that can provide an alternative to medication. Prescribing a patient with activities involving the arts, nature or sport can bring patients into a new space and create opportunities to connect with others through a shared experience. The impacts can be incredibly powerful and the benefits long-lasting. For many patients, it can be more effective than prescribing them medication.
Utilising our parks and green spaces for GSP sessions is set to grow in popularity as it becomes an integral part of the UK's health and care strategy. Based on available evidence, it is estimated that the full roll-out of the social prescribing programme could lead to 4.5 million fewer GP appointments per year (National Academy for Social Prescribing).
Over 80% of the UK population lives in an urban setting, therefore it looks likely our parks, green and blue spaces will provide the setting for many GSP activities over the next few years. (Government trend statistics – 2021).  
For Friends of parks and greenspace community groups, the GSP programme could provide an opportunity for funding and allow a wider variety of local people to discover the volunteer work, events and activities that take place at your site.
"The use of green space has proven time and time again to be a highly beneficial tool for maintaining mental health and in recovery from a mental health illness. For some, this might mean joining a walking group, growing vegetables at a community allotment or simply getting away from it all in Greater Manchester's vibrant and varied wood and park land.


Stewart Lucas, Mind's strategic lead in Greater Manchester and co-lead of the Voluntary, Community and Social Enterprise (VCSE) Mental Health leadership Group
Having strong partnership working will be key to enabling these social prescribing sessions to take place effectively. Many NHS organisations and GP practices are utilising "Social Prescribing Link Workers" to support network creation within their communities.
Key areas for social prescribing are:
Arts and culture
Nature and environment
Sports and leisure
Sessions are designed to allow patients to enjoy a local green space, perhaps somewhere they have not felt confident visiting previously. They may learn new skills, bond with other participants from their community and find opportunities to connect through a shared experience.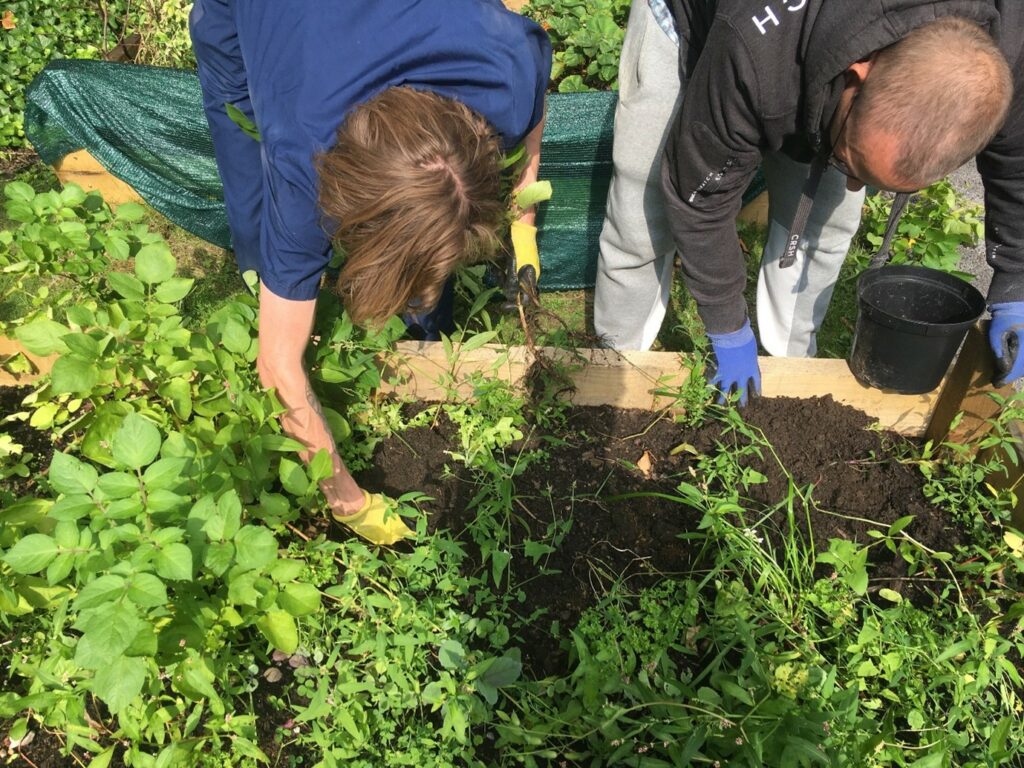 If your Friends group feels your green space or park could provide a useful setting for a fruitful collaboration, then we suggest you get in touch with a Social Prescribing Link Worker who covers your area. There may be funding already available or you could work together on a project outline and apply for suitable grants as a joint effort.
Here are a few examples for inspiration:
Streatham Common Co-operative is a social enterprise community group with direct responsibility for managing their Lambeth green space. 
"We aim to manage them better for the community, putting all profits back in."
They are working with Froglife to offer "Wild Times" – weekly, dementia-friendly nature sessions on prescription. Alongside the Clapham Common site, the sessions also take place at nearby Bandstand Beds community garden and Streatham Common Rookery. The project is funded by City Bridge Trust.
Sow the City is a Manchester-based social enterprise – a not-for-profit company with a mission to empower communities to grow and live sustainably.
SCHEME ONE – Prescribe a Plant :
Sow the City has been working with Cornbrook Medical Practice in Manchester and Chorlton Health Centre to develop their grounds into an engaging space for growing, wildlife and relaxation.
It has helped to support many people who are socially isolated and have very little access to outdoor space. The garden provides an opportunity for local people to learn new skills, take part in physical exercise, get access to healthy and free food and meet new people, Cornbrook's GPs are prescribing gardening and nature activities on site.
Here's a great 6-minute film showcasing the work they do and shows off the site at Cornbrook:
SCHEME TWO – "Green Minds"
"Green Minds" is a therapeutic horticulture scheme that uses food growing in the community to provide health benefits. They've been working with North Manchester General Hospital and local community gardens such as Crumpsall Community Garden and Garden Needs in Salford. Sow the City has produced a really informative guide for everyone to read, in which they share their learning from the "Green Minds" scheme. Greater Manchester has a devolved healthcare system and is at the forefront of funding projects which utilise the area's green spaces alongside volunteers and the third sector.
Petrus Incredible Edible offers gardening-on-prescription, accessed via self-referral or referrals from health services and other support services.
---
Our "Effective Greenspace Programmes For Mental Health" article featured a very helpful guide 'Greenspaces for Mental Health'. It has been designed to assist with the delivery of effective greenspace programmes.
As it's early days for the whole Social Prescribing programme, here are a few things worth keeping an eye on:
Therapeutic Nature Final Report – Defra, December 2021
At the end of 2021, DEFRA produced a 52-page report which reviewed the current state of nature-based social prescribing. Some issues the report highlighted:
No overall standards, goals or authority. There is no recognised authoritative voice providing specific guidance on nature-based social prescribing at a national level. The Conservation Volunteers have taken an early lead in some aspects of nature-based social prescribing and in some local areas there are there is leadership developing (for example it the West of England Nature Partnership) but as of yet there is no single point of contact at a high level to coordinate activity. (Page 24/52)
Need to ensure that the natural element doesn't get minimised – nature must be the feature. (Page 5/52) All of the community providers had access to the natural environment and these included a diverse range of green spaces from public parks, allotments, farms, forest/woodlands and community gardens. "
IN CONCLUSION
Most Friends groups will already have the goal of improving parks and green spaces for their users etched large on their mission statement. The advent of GSP means groups and their area Forums should widen their lobbying targets. If extra resources could help make your park more attractive for people to use for health and wellbeing benefits, the key stakeholders to influence are:  
Below are some ideas for improvements that can improve your site's well-being offer:
outdoor gym equipment and trim trails
park cafes with toilets
accessible community garden
onsite storage facilities for Friends Groups
community rangers to interact with users
funding for community events
a clean, welcoming and regularly maintained space
What can you do next?
Be proactive and make connections with your local "Social Prescribing Link Workers" to discuss ideas and funds.
Talk to and learn from neighbouring Friends groups to see if they are already hosting GSP sessions.
Lobby for improvements via your CCG, Health & Wellbeing Board and Council.